Riding Sherwood Pines' "Blue Route"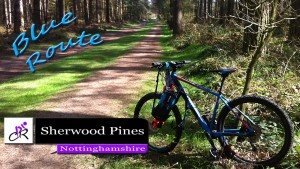 Our latest video has just hit YouTube, it's a guide to cycling around Sherwood Pines Forest Park using the Blue Route.
We often visit Sherwood Pines, to do a combination of the "Green Route" + another, be that Red or Blue, on this occasion we hit the "Blue intermediate Route". It is a good trail for confident new riders with a little off-road experience or intermediate riders wanting a quick blast and it is well worth a visit if you are in the Nottingham area.
There is bike hire available at the center for those who do not have their own off-road bike handy, or would rather hire for the day.
The route was ridden by only Sarah & myself on this occasion and we used our cube cross country (XC) bikes, these are very light and nimble bikes and didn't break the bank to purchase either.
Steve