Recently we uploaded another guide to one of Sherwood Pines Forest Park trails. The video was titled "Riding The Kitchener Trail, Sherwood Pines' Red Route" a great cycle route for mountain bikers, we had already reviewed the Green and Blue routes in 2015 so this is our last guide to the centers trails.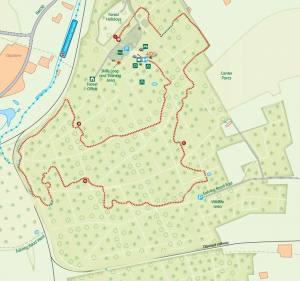 The red route is a great trail that appears to be continually evolving in the forest as it is diverted around obstacles or forestry work, it is the longest and most difficult route and you have to be pretty energetic to get around it without taking a break.
The trail starts at the back of the car park away from the visitor center, the first section of the Kitchener Trail is a fast going path with an irregular surface, this first part prepares you for what is to come….
The trail also has many small ascents and descents throughout it's length, however nothing too severe as the area surrounding Sherwood Pines is relatively flat. If you want some bigger ups and downs I can recommend both Whinlatter in the Lake District or Coed Llandegla in North Wales for you to try out if you are ever in the area. The next time we visit either of these Mountain Bike centers we will film the routes we run.
We usually have a good time when we are out enjoying the cycle routes at Sherwood Pines and I am sure we will visit the trail center a few more times before the year is out.  Please enjoy the video and if you would like to see more of the routes we ride then please subscribe to the channel.
Steve