Cycling in the upper Derwent Valley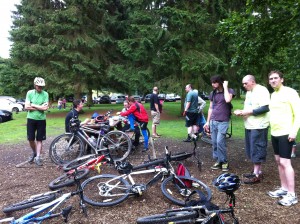 Our video "Cycling the Upper Derwent Valley Family Route" is now available on YouTube. This is a 14-mile route around the three reservoirs  Ladybower, Derwent and Howden in the Derwent Valley.
This route begins at the Fairholmes visitor center and heads out along a quiet road later joining traffic-free bike paths around the Valley.
In some places the ride can be challenging, however the scenery and wildlife can make it all worthwhile.
The Ladybower reservoir is famous for drowning the villages of Ashopton and Derwent during its construction.  The Upper Derwent Valley was also used for the training of the 617 Squadron when they were practicing their low-level flights needed for the dam buster raids.
Watch the video and feel free to like & share and if you have any questions or suggestions please use the comments section on YouTube.
Enjoy the video and if you ever get the opportunity enjoy the cycle route.
Steve